President's Report: The State of Our Lands
Like many of you, one of my favorite things to do with my family and friends is to escape for a hike or bike ride in the Mountains to Sound Greenway. It's where we go to relax and explore. Through the years such activities have helped us form a valuable bond between each other and with our surroundings. We certainly are not alone—Washingtonians, on average, spend 56 days a year recreating outdoors.
On our trips, we are starting to see evidence of crumbling recreational infrastructure, not from lack of love, but rather lack of funding. Longer lines, facilities in need of cleaning, inadequate parking, poor signage, and deteriorating trails are more common these days. Many of the agencies who manage our public lands are facing two different forces: higher levels of outdoor recreation use from a growing population at the same time as record low levels of financial resources to develop and/or sustain features intended to assure safe and reliable recreational access and use.
As a business leader, I know that enterprises need enough capital, revenue, and assets to keep the lights on. You dip below a certain level of financial resources and it becomes a downward spiral into decay and potentially closure. That's the hand our public lands agencies have been dealt through years of diminishing budgets. I have seen first-hand how hard the agencies' staff work to steward these lands, but without sufficient funding, they are struggling to take care of the lands and facilities they oversee.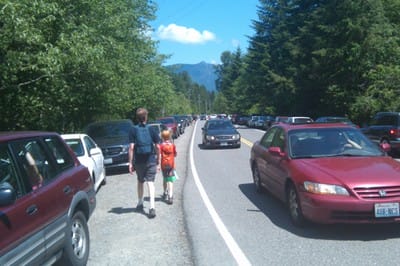 The Mt. Baker-Snoqualmie National Forest stretches from the Canadian border to Mt. Rainier, encompassing 1.7 million acres of alpine forest land on the west side of the Cascade Crest. Its popular recreation sites in the Greenway include Granite Mountain, Rachel Lake, and Snow Lake. When the Greenway was founded twenty four years ago, this National Forest had over 450 employees, working hard on its many uses including recreation, ecology, and fire management. Now there are 150 employees.
State agencies find themselves in dire financial circumstances as well. Washington State Parks has seen a precipitous decline in funding over the last six years, resulting in a sharp drop in staffing levels and a burgeoning maintenance backlog. Additionally, the State Department of Natural Resources manages some of the most popular recreation sites in the Greenway, like Mount Si, but receives almost no direct funding for recreational purposes.
Our public land agencies are severely underfunded considering their value and use levels. This is not a question of finding cost efficiencies and tightening belts. We passed that threshold a long time ago. It's now a question of rethinking how we fund these agencies and how we maintain this land.
Lack of adequate funding for lands is one of the top threats to the Greenway landscape. To counteract it, we have to be creative, resourceful, and thoughtful. The Greenway Trust is thinking outside the box to find a big picture solution to this dilemma. The people of the Greenway are exceptionally proud of where they live and can employ their energy, enthusiasm, and resources toward ensuring their natural heritage is not lost.
The repercussions of inaction will be felt for generations to come. Let's not leave that as our legacy for our children and grandchildren. Let's leave them a Greenway that is strong, vibrant, and cherished.
Join us in this work. It begins one step at a time: stay informed and voice your support for public lands funding to your neighbors, local elected officials, and national congressional delegation. Our elected officials need to know that their constituents value their parks and forests not just for their incredible beauty but also for their recreational and ecological purposes.
And remember, in addition to encouraging state and federal funding for public lands and recreation, support the Mountains to Sound Greenway's National Heritage Area Designation effort. The designation will allow for more flexible cost-sharing and coordination between our public lands agencies.
See you on the trail,
Kurt Fraese, Greenway Trust Board President