President's Report: The Future of the Greenway
Twenty-five years of collaboration and hard work have tested and strengthened the vision of the Mountains to Sound Greenway.
We have proven to this region and the rest of the nation that collaborative conservation using a broad-based and inclusive coalition can affect positive change. Our coalition—community members, businesses, government agencies, and donors—is joined together by the ethos that when we have meaningful connections with our natural surroundings, our lives are better. We are healthier and happier, and our communities are stronger, more equitable, and economically competitive.  Enhancing people's connections to nature drives the Mountains to Sound Greenway mission.
Now, on our 25th anniversary, we are reflecting on where we have come from and where we are headed. The next 25 years will continue to be shaped by population growth and related development in our region. Recognizing the tremendous accomplishments of large-scale land conservation in the Greenway, we must adapt to meet new needs.  One area of need is achieving long-term land management with public-private partnerships to ensure sustainability in ecological health and outdoor recreation as public funding is limited and usage increases.  Another need is expanding access to quality outdoor education opportunities for students served by our public schools and their science curricula.
To meet these and other challenges and opportunities, the Greenway Trust developed a new strategic plan that commits us to three interconnected goals: conserving the landscape, making connections with our communities, and engaging more people as stewards of the Greenway.
With these goals in mind we have identified five priority initiatives across the Greenway where we are committed to making a difference in the coming years: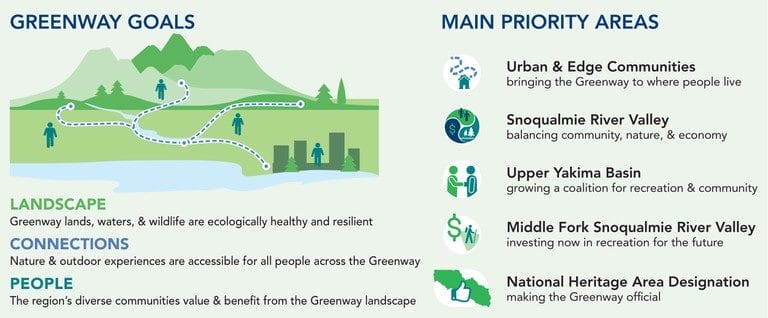 We are building a new coalition in the Middle Fork Snoqualmie River Valley to meet an acute recreational and ecological need as a new road opens in this spectacular portion of the Greenway. We are driving dialogue on how to employ transit to increase access to recreation and reduce trailhead overcrowding. Through our education and land stewardship programs, we are exploring ways to assure equity for diverse communities of users exploring the natural wonders of the landscape.
Strategic plans help guide our actions, but equally important are the values we hold. Our values reflect our beliefs, guide our behavior, and frame how we relate to each other. The Greenway Trust is collaborative, trusted, inclusive, impactful, positive, and pragmatic. These values have forged the successes of our past and will continue to define our way forward as we work to assure the spirit and value of the relationship between the Greenway landscape and its inhabitants is felt by all for generations to come.
Please join us and learn more at mtsgreenway.org.
See you on the trail,
Kurt Fraese, Greenway Trust Board President