Preparing the Teanaway for Summer
Teanaway Love Day lived up to its name this year, with an outpouring of support from all across the community for this special forest on the east side of the Greenway. This annual event helps prepare the forest's three developed campgrounds and surrounding land for the busy summer season, and is organized each May by the Teanaway Community Forest Advisory Committee, Washington Department of Natural Resources (DNR), and Washington Department of Fish and Wildlife (WDFW).
On May 4th, a crowd of about 50 volunteers from both Kittitas and King County communities gathered to make summer recreation safer and more fun for visitors to the 50,241-acre Teanaway Community Forest (TCF). Lead by agency staff as well as representatives from the Mountains to Sound Greenway Trust, Washington Trails Association, Kittitas County Field and Stream, The Nature Conservancy, The Wilderness Society, and the Back Country Horsemen of Washington, the volunteers tackled two big projects: campground cleanup and fencing setup.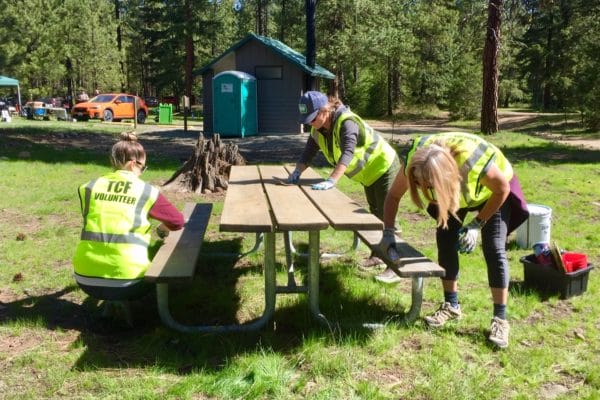 The Campsite Cleanup team was tasked with prepping parking areas, fire rings, and picnic tables before the start of the busy camping season. The TCF's three campgrounds boast 115 campsites between them, each with its own ring and table. Volunteers dug cold ashes, bottles, cans, and other camp refuse from the fire rings. They also spread gravel near a newly installed pit toilet at Teanaway Campground, scraped, sanded, and stained ADA-accessible picnic tables, and picked up trash and debris left over from last season.
The Fencing Setup Team constructed cattle-exclusion fencing along several miles of the North Fork Teanaway Road. The TCF is a working forest, where recreational values are balanced alongside timber production and grazing. These historic uses are authorized by the legislation that created the forest in 2015 but must be conducted in a manner that protects the Teanaway watershed. Since 2015, DNR and WDFW has built 7+ miles of lay-down fencing to keep cows in designated grazing areas (and out of campgrounds, streams, and sensitive habitat). Lay-down fencing works by being set up in the spring, when the cows come into the river valleys to calve, and then taken down in the winter, to prevent damage from heavy snow or falling tree limbs. Guided by DNR staff and armed with fence pliers, wire cutters, and stretchers, volunteers set up fencing at Bissoli Field, a heavily used meadow on the North Fork Teanaway River.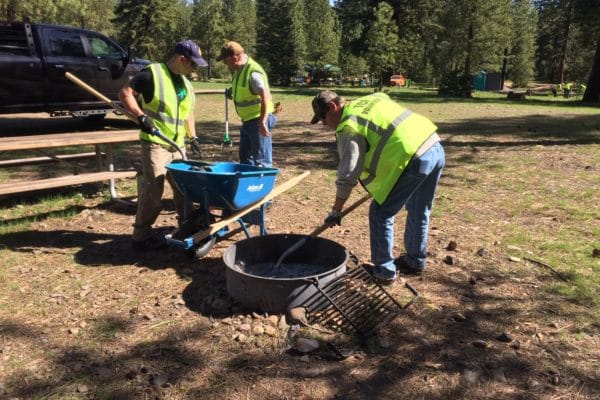 Altogether, Teanaway volunteers built 1.5 miles of fence, cleaned out 65 fire pits, repaired 14 picnic tables and filled dozens of trash bags with debris. They also polished off five dozen brats donated by Owen's Meats, nearly 100 cookies donated by the Cle Elum Bakery, and assorted sides and drinks from the local Safeway and Starbucks. A raffle with prizes from REI, WTA, and Mule and Elk Brewery capped off the celebratory cookout at the end of the day.
Every Teanaway Love Day is a little different. We never know what new management challenges will pop up, or what issues we'll ask the community to help us solve. One year it may be graffiti, or a new trail. The next year, it may be fencing or weed control. One thing has remained true since the TCF Advisory Committee first launched these work parties in 2016: the community has always answered the call to support the Teanaway.
We hope to see you out in the forest next year!