Popular High Point Trailhead Becomes More Accessible
Goodbye, potholes. The High Point Trailhead on Tiger Mountain just got some well-deserved TLC. Freshly paved and striped, and with a turnaround for buses, this popular trailhead is more accessible than ever.
Minutes off I-90, High Point is one of the busiest trailheads in the state, with opportunities for many to get outside, from families with small kids on their first hike to seasoned hikers or runners logging long trail miles. Popular routes include West Tiger #3, Bus Trail, and Tradition Lake Trail, with access to both the Tiger Mountain and Tradition Plateau Natural Resources Conservation Areas, managed, respectively, by the Washington State Department of Natural Resources (DNR) and the City of Issaquah.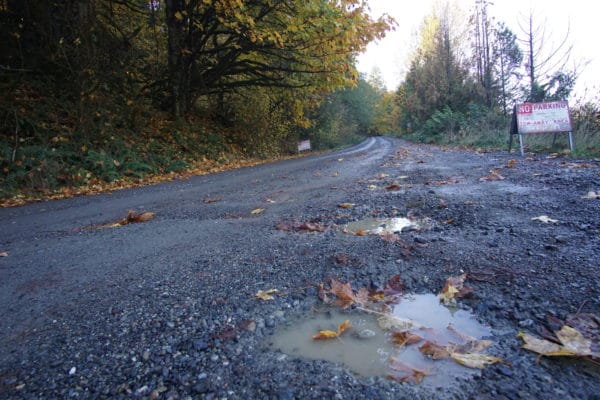 The old gravel road was in rough shape: potholed and narrow, with unmarked parking, and difficult for buses to access. The transformation is dramatic. With 87 stalls, ADA-accessibility, and a designated bus turnaround, the renovated trailhead allows users to park more efficiently and maximize capacity without having to expand its footprint.
The renovation has been on a top priority for Issaquah-area recreation. Senator Mark Mullet (D-Issaquah) championed this project, ultimately securing state funding through a U.S. Department of Commerce grant, with construction overseen by the city, DNR, and Lakeside Construction in early November.
The new bus turnaround will help connect more students with Tiger Mountain's forest and trails. Several thousand students travel there each year with the Greenway's education program, exploring the trails and learning about local ecosystems. Many of these classes use school buses or King County Metro buses (through their innovative Wheels to Water program) to get to the trailhead. But the buses had trouble turning around in the old parking lot, sometimes even getting stuck. The new design takes away the headache of parking problems and will allow more students to experience outdoor education and get connected to local public lands.
Bus accessibility has benefits for other hikers as well. The repaving opens the door for future hiking shuttles to drive up to the trailhead. For those who don't want to wait for that expansion, High Point is currently accessible by the Metro Route 208, with a bus stop a short walk away.
The new trailhead is open now. Want to explore it? Check out our interactive map for trail ideas.