Our region's skiing roots
Driving across Snoqualmie Pass this winter, you'd pass the familiar ski runs of the Summit ski area and the popular cross-country ski routes that snake up to Kendall Peak, Amabilis, and Mount Catherine. Thousands of fellow snow-lovers head up there every weekend, located less than an hour drive from Seattle.
But it wasn't always this way. Skiing at Snoqualmie Pass began with much humbler roots. And a little bit of Olympic glory.
Long before the downhill lifts were constructed, Snoqualmie Pass' skiing heritage began with Nordic skiing (jumping and cross-country), led by Puget Sound's large Scandinavian population.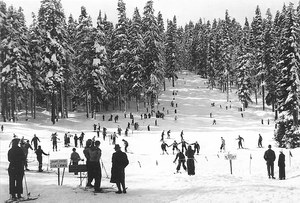 Early skiing was largely done through private ski clubs, which were located in different areas at the pass, and had their own lodge and club-specific skiing routes. The Mountaineers built the first lodge in 1914, followed by the Cle Elum Ski Club (1921), and Seattle Ski Club (1929). The Sahalie Ski Club and Washington Alpine Club were started in 1932, and built lodges on what is now Alpental Road.  Both clubs are still active, remnants of an earlier era of skiing.
Each club was known for their annual ski contests, which ranged from local cross-country and downhill races to nationally-renowned ski jumping competitions.
The Mountaineers were famous for their 20-mile Club Patrol Races from their Snoqualmie Lodge to Meany Ski Hut near Stampede Pass. The contest continues even today, and until 2016 the record time was held by an early member back in the 1930s.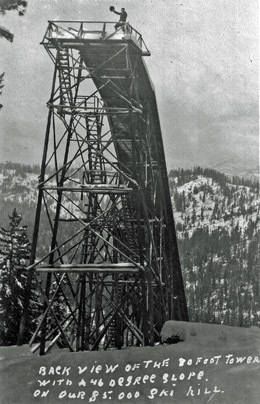 In the 1920s and early 1930s, ski jumping was the most popular sport due to the influence of local Norwegians. In 1929, the Seattle Ski Club built a ski jump on Beaver Lake Hill, one mile up the hill from Snoqualmie Summit, and the Leavenworth Winter Sports Club built a jumping hill at Leavenworth.  Jumping tournaments at Beaver Lake, Leavenworth, and Cle Elum attracted national caliber competitors and thousands of spectators.  The 1931 tournament at Beaver Lake was a regional tryout for the 1932 Olympic Games at Lake Placid, watched by 10,000 spectators.
The Cle Elum Ski Club held annual jumping tournaments that attracted competitors and spectators from all over the Northwest.  In 1931, more than 8,000 attended.  The 1933 tournament was its last.  "The unwillingness of spectators to make the hard trek to the Summit was the reason the ski club abandoned the hill," said a Cle Elum newspaper.
While the trip up the Pass today is relatively easy, it wasn't always that way. It wasn't until 1931 that the road over Snoqualmie Pass was plowed during the winter, and 1934 that the highway was paved. It was then known as the Sunset Highway, and it would be several decades more before the small highway was converted into the Interstate 90 we now know.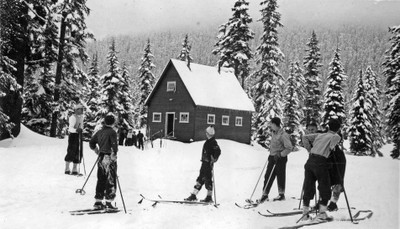 In 1934, the Seattle Park Board opened the Municipal Ski Park at Snoqualmie Summit, a federally financed project done by CCC workers, the country's first municipally run ski area. It had a warming hut but no lift, and skiers had to walk up the hill. This signaled a shift away from club membership, helping make skiing accessible to the broader public. The Seattle Ski Club's 1934 Tournament included cross-country races, the first sanctioned slalom race, and jumping, with spectators parking over 5,000 cars along the highway—a significant feat, given that the road had been just paved earlier that year.
The US ski team for the 1936 Olympics in Garmisch, Germany, was selected at the National Championship Downhill and Slalom tournament on Mt. Rainier in 1935.  Five local skiers went to Europe with the Olympic team, increasing awareness of skiing in the Northwest.
In 1936, President Roosevelt's Works Projects Administration announced they intended to build a large new ski jump and lodge at Snoqualmie Summit, which, "probably has more skiers to the square inch during the winter season than any area due to its easy availability, and also due to the fact that it was in Snoqualmie Pass modern skiing was really born and raised," according to the Seattle Times. The project ended up not being built because of cutbacks to federal funding for WPA projects, although skiing continued at Snoqualmie Summit and at Beaver Lake..  In 1937, 46,070 people visited Snoqualmie National Forest, many attracted by skiing on Snoqualmie Pass.
And that was just the beginning. Check out part two, looking at the recent years of skiing as it blossomed to meet Seattle's growing demand for outdoor winter sports. Or visit the new Ski & Snowboard Museum, located between Commonwealth Café and Dru-Bru at Snoqualmie Pass. Open Wednesdays through Sundays, noon to 5 PM, during the ski season.
This blog, and other papers on early skiing on Snoqualmie Pass, were written by John W. Lundin, a Seattle lawyer and historian, as part of his work for the new Washington State Ski & Snowboard Museum.
Photo Credit:
Early skiers, before lifts were installed (Moffett Family)
Ski Jump (Sam Maybo family of Cle Elum)
Skiers at Seattle Municipal Park ski hut (City of Seattle)