More Lands Conserved in the Greenway
Over the last twenty five years, the Greenway coalition has successfully worked together to conserve natural lands in and around our cities. These acquisitions have conserved wildlife habitat and trail corridors, protected water quality, and safeguarded breathing room for people in our fast-growing region.
We're excited to celebrate several recent land conservation successes in the Greenway:
Protecting old growth in the Middle Fork Snoqualmie River Valley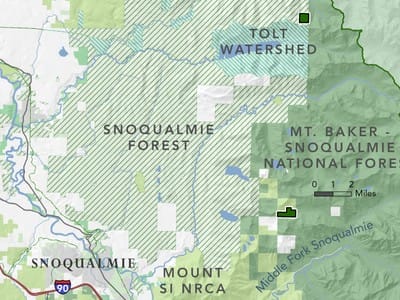 Our partners at Forterra just helped the Washington State Department of Natural Resources (DNR) and the City of Seattle conserve 376 acres of important wildlife habitat tucked into the high country above the Middle Fork Snoqualmie and the Tolt Rivers—300 of these acres are pristine old growth forest. Purchased from a family-owned timber company, these lands are some of the last inholdings in what has become a spectacular expanse of public wild spaces that stretch from Mt. Si far to the north and east. Their protection secures habitat critical for northern spotted owls and marbled murrelets. Blethen Lake is now part of DNR's Mt. Si NRCA and Titicaed Creek will become part of Seattle's Tolt Watershed.
Connecting "islands" of public land near Preston
Nearly 70 acres of forested land was recently conserved on Mitchell Hill, near Preston. King County and Washington State Department of Natural Resources (DNR) purchased parcels from private landowners to complete a conservation effort that has been 15 years in the making. This missing piece joins existing public forests to create a connected corridor, benefiting both wildlife and recreational users. The acquisition helps expand the public lands in I-90's Exit 20 area—connecting the popular Tiger Mountain complex to the south with the expanded county and state properties to the north, including Duthie Hill, Grand Ridge, and now Mitchell Hill.
Expanding conservation near Lake Sammamish
With our region's population growing quickly, the need to preserve open spaces within our cities has become even more pressing. Our partners at City of Issaquah have been leading the charge, finding creative ways to balance development with nature and conserve some of the last wild spaces within their boundaries. Partnering with the Trust for Public Land, the city recently acquired 46 acres of forested land adjacent to the popular Lake Sammamish State Park. This expansion will ensure the protection of important wetland areas and allow future trail opportunities.