Lands Conserved in the Greenway
Over the last twenty-five years, the Greenway coalition has successfully worked together to conserve natural lands in and around our cities. These acquisitions have conserved wildlife habitat and trail corridors, protected water quality, and safeguarded breathing room for people in our fast-growing region.
We're excited to celebrate several recent land conservation successes in the Greenway:
South Fork Snoqualmie River
A major inholding has been acquired along the South Fork of the Snoqualmie River near Mt. Defiance. Inholdings are usually small sections of privately held land surrounded by public lands, often holdovers from the Homestead Act, mining claims, or federal land grants which created a checkerboard pattern of ownership across the West. Ownership fragmentation produces financial and managerial challenges for both public and private owners, and our coalition has been working steadily over the years to find willing private sellers to move these lands into public ownership.
The latest inholding to be conserved is 45 acres of forest land surrounded by the state's Middle Fork Snoqualmie Natural Resources Conservation Area and the Mount Baker-Snoqualmie National Forest and its Alpine Lakes Wilderness. Forterra and Washington State Department of Natural Resources, with funding from the Washington Wildlife and Recreation Program, conserved this parcel earlier this year, adding the forest and riparian habitat to a long corridor of protected lands along the Mountains to Sound Greenway National Scenic Byway. The property encompasses both sides of I-90 and a considerable stretch of riverfront below Iron Horse State Park.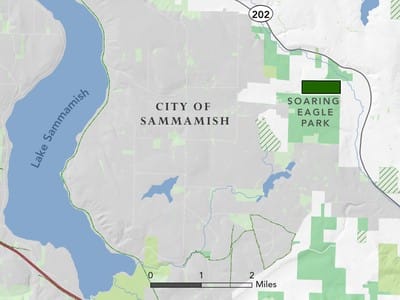 Emerald Necklace
Conservation doesn't just happen "out there" in the Cascades. Some of our region's most critical conservation projects are located in and around our communities. As our region grows, these easily accessible open spaces give residents room to breathe, relax, and stay healthy.
A major effort is underway to preserve open space around the rapidly developing Sammamish Plateau. The Emerald Necklace is envisioned as an interconnected series of parks and trails that will eventually encircle the City of Sammamish. The western anchor is the East Lake Sammamish Trail, a popular biking and pedestrian route. From there, the Necklace heads south to Issaquah where a trail along I-90 leads to switchbacks climbing Grand Ridge and flowing into Duthie Hill, before following a sidewalk east of Beaver Lake to Soaring Eagle Park. But that's where the trail (and connected public lands) stop, just shy of making a full circle.
An intrepid band of local advocates, called Sammamish Friends, have taken it upon themselves to connect that last stretch and to create an emerald necklace. King County Parks and the Trust for Public Land have joined the Friends in the campaign and just added 120 acres to the route. King County used a transfer of development rights to partially fund this first phase of the purchase with the rest of the funding coming from the Conservation Futures Tax and the King County Parks Levy.