Land and Water Conservation Fund Permanent Funding Act
The clock is ticking as the U.S. Congress finishes its session for the calendar year. Two extremely important bills on the docket are S.1081 and H.R. 3195: The Land and Water Conservation Fund (LWCF) Permanent Funding Act.
Since its establishment in 1964, LWCF has invested more than $16 billion in conservation and recreation projects. It is a critical national funding source for conserving public land, improving parks and trails, and preserving natural, historical and cultural resources across the country. This popular bipartisan program uses royalties from offshore oil and gas drilling at no cost to taxpayers with the intention to offset energy development.
In Washington, more than $675 million in LWCF funds have made outdoor recreation projects possible, from trails like the Pacific Crest Trail to neighborhood playgrounds. Since 1990, LWCF has helped conserve over 85,000 acres of public land within the Mountains to Sound Greenway National Heritage Area and improve dozens of our city, county, and state parks. In recent years, LWCF has also helped with the 300-acre acquisition of old-growth forest in the Snoqualmie River Valley at Blethen Lake and Titicaed Creek.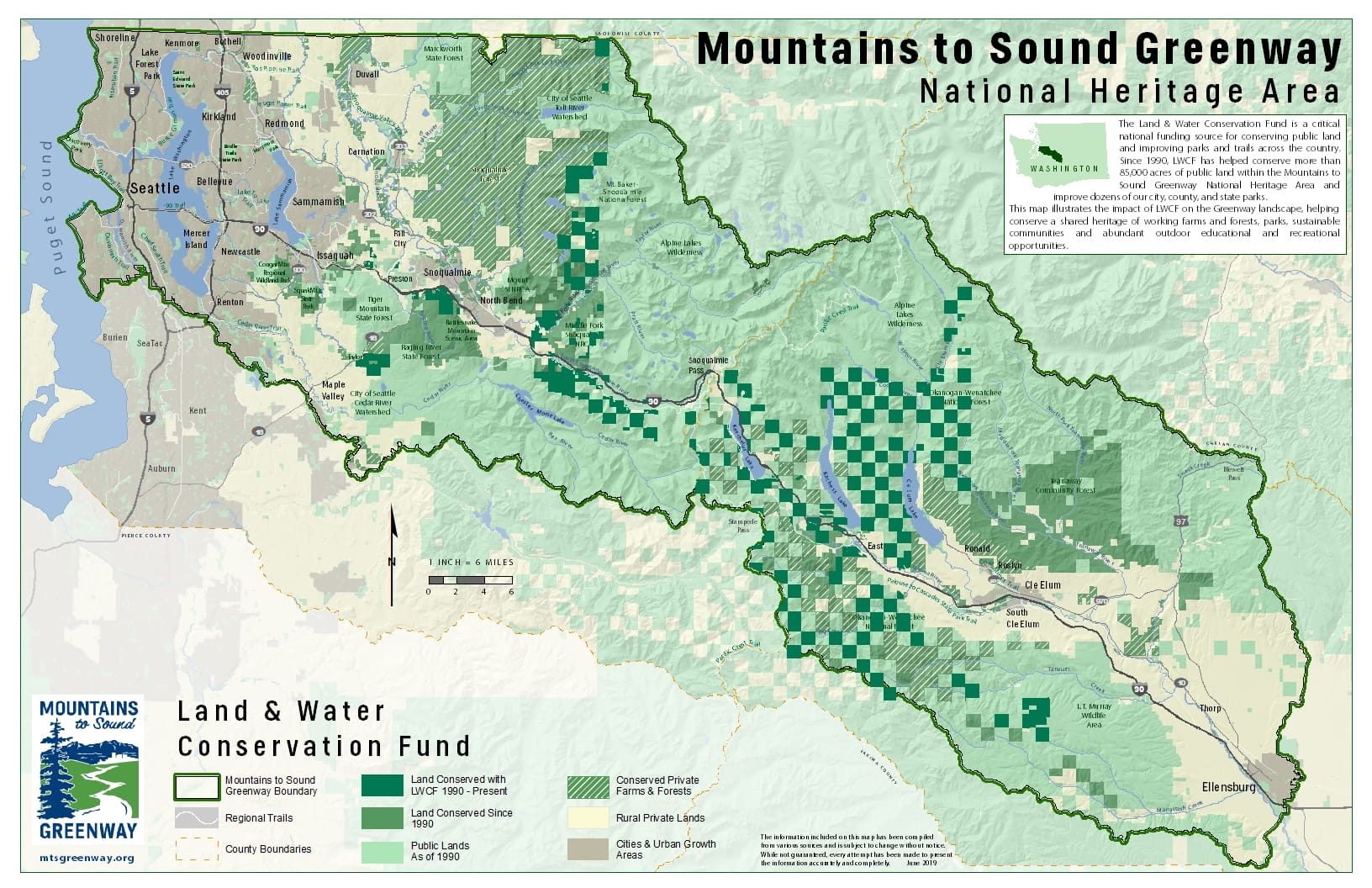 In March of 2019, Congress voted overwhelmingly to permanently reauthorize the LWCF program as part of a large public lands package by impressive margins – 92-8 in the Senate and 363-62 in the House, demonstrating widespread appeal of America's most important conservation program. Though LWCF was permanently reauthorized, expenditures from its account continue to be subject to federal appropriations. Congress has been working on policy to remove this barrier of appropriations, introducing S.1081 and H.R. 3195, which propose full funding for LWCF at $900 million per year. Though LWCF's funding method is intended to offset the environmental costs of energy development by conserving public lands and waters elsewhere, more than $22 billion of the offshore oil and gas royalties have been diverted to non-conservation purposes over the last 50 years. We need to ensure that those revenues are being spent on their intended purpose by approving dedicated funding for LWCF. Now more than ever, we need strong investment in conserving natural resources.
Help achieve full funding of what is considered America's best conservation program. Congress must pass the nation's operating budget by November 21st.   Please thank our Congressional Representatives Pramila Jayapal, Susan DelBene,  Adam Smith, and Kim Schrier along with Senators Maria Cantwell and Patty Murray for co-signing this legislation and ask that they continue to push this legislation over the finish line!