Interpreting Our Heritage and Experiencing the Wonder of the Snoqualmie Valley
The Northwest Railway Museum is located in the beautiful Snoqualmie Valley, which is a vital part of the new Mountains to Sound Greenway National Heritage Area. This Congressional designation recognizes this corridor's rich natural and cultural heritage, which is particularly valued for wildlife migration, fish passage, incredible geography, and human travel. The Museum is in a unique position to interpret this heritage, and allow visitors to experience the region.
For thousands of years, the corridor has been a primary travel and trade route between the Pacific Coast and inland regions. The area was first surveyed in January 1854 for its potential as a northern transcontinental railway route as part of the Pacific Railroad Surveys. US Army officer George McClellan led scientists, artists, and surveyors in the effort that later became the basis of the Northern Pacific Railroad. Ever since, the Snoqualmie Valley has been influenced by the railway. The first was the Seattle, Lake Shore, and Eastern Railway, which arrived in the valley in 1889 and brought a plethora of visitors including naturalist John Muir. By the early 1900s, the Northern Pacific, Great Northern, and Milwaukee Road all owned rail lines connecting the valley to wider trade routes.
"Picturesque, and interesting in many ways, and well worth a visit by tourists passing through the Sound region, since it is now accessible by rail from Seattle… the upper Snoqualmie River … dense forest opens, allowing the fine free views of the adjacent mountains from a long stretch of ground which is half meadow, half prairie, level and fertile, and beautifully diversified with outstanding groves of spruces and alders and rich flowery fringes of spiraea and wild roses, the river meandering deep and tranquil through the midst of it." —John Muir, Steep Trails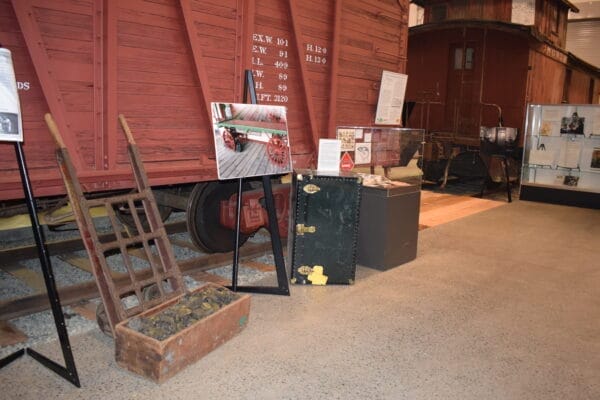 Today, the Museum's Snoqualmie Valley Railroad is the last remaining rail segment in the valley. It connects the towns of North Bend and Snoqualmie, and provides a way to experience the cultural and natural history, scenery, and beauty of the corridor while providing physical connections to the landscape. Visitors to the Northwest Railway Museum may ride between the towns on the 5.5 miles of historic railway on passenger coaches dating from the 1910s. They may also visit the Railway History Campus where exhibits tell the story of how the Railroad Changed Everything and visit the 1890 Snoqualmie Depot where further exhibits interpret the railroads role in the development of the town of Snoqualmie. To learn more about the Northwest Railway Museum visit TrainMuseum.org.