Happy Birthday Jim!
On August 8, 2006, under sunny skies in the Snoqualmie Valley with a majestic view of Mt. Si, Seattle civic leader Jim Ellis celebrated his 85th birthday with 500 friends and colleagues. This dinner and celebration was a tribute to Jim's many civic accomplishments, with proceeds from the event going towards the preservation, restoration, enhancement and advocacy programs of the Mountains to Sound Greenway Trust.
In appreciation for Jim's years of tireless work on behalf of environmental and economic health of this region, he was presented with the honorary first one million dollars to the Mountains to Sound Greenway Legacy Fund.  This was the kick-off for a multi-year endowment fund campaign, with a goal to raise $5,000,000 for this Greenway endowment fund to permanently protect the scenic, recreation corridor along Interstate 90 between Seattle and Central Washington.
Boeing, Preston Gates & Ellis LLP, REI, The Trust for Public Land, Weyerhaeuser Company and Mountain Meadows Farm were major sponsors of this significant event.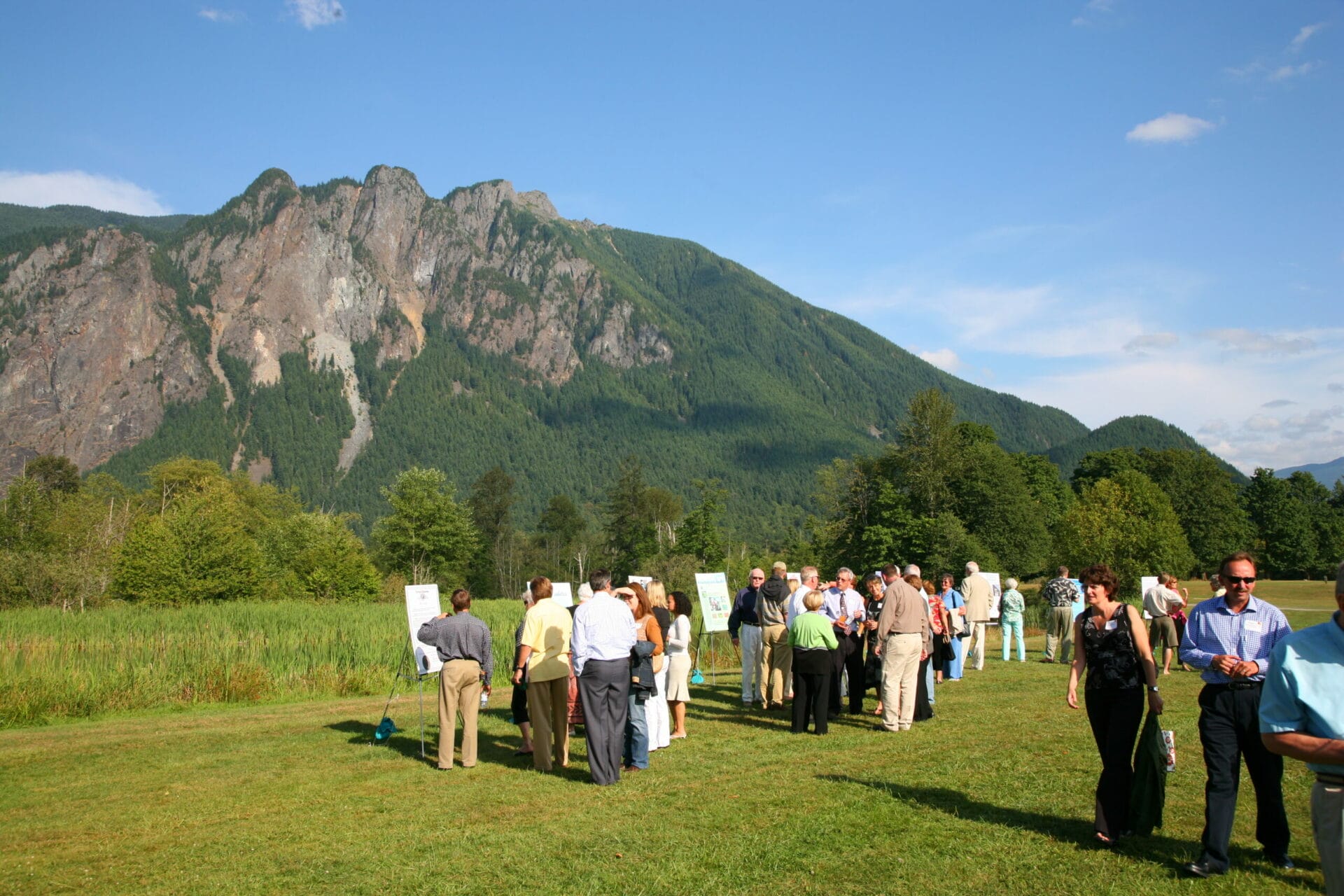 Master of Ceremonies Bill Chapman presided over a cast of speakers including Former Governor & US Senator Dan Evans, Former US Senator Slade Gorton, and CEO of REI Sally Jewell. Musicians John Ellis (Jim's brother), Patti Payne and John Ellis (Jim's nephew) sang a musical tribute of Jim's accomplishments, including "Tiptoe Through the Greenway."
Jim's granddaughter Hayley Erickson jumped out of a giant birthday present with the million dollar check.
Founding Jim Ellis Leadership Circle donors included the Bill and Melinda Gates Foundation, Sally and Warren Jewell, David Jones and Maryanne Tagney Jones, and Bruce and Jeannie Nordstrom. Over 200 people donated to the Greenway Legacy Fund in Jim's honor.