City of Bellevue Builds Key Connection of the Mountains to Sound Greenway Trail
Walking, rolling, or running just became much safer and more enjoyable through the bustling Eastgate neighborhood in Bellevue thanks to a new section of the Mountains to Sound Greenway Trail! 
To set the scene, the Mountains to Sound Greenway National Heritage Area is a 100-mile-long corridor along Interstate 90, stretching from the Seattle waterfront to Ellensburg in Central Washington. It features hiking and biking trails, and a regional trail network used by pedestrians and bicyclists for recreation and transportation. The official Mountains to Sound Greenway Trail will eventually connect Seattle, Mercer Island, Bellevue, Issaquah, Preston, and Snoqualmie, and will be an integral connection in the Leafline Trails network.
The City of Bellevue recently completed a new, .8-mile section of the Mountains to Sound Greenway Trail from the I-90/I-405 interchange east to 132nd Avenue Southeast. The new segment includes a bridge over busy Factoria Boulevard to separate bicyclists and walkers from automobiles, a tunnel under existing freeway ramps, and a 12-foot path heading eastward on the south side of Interstate 90. This is a major milestone in a decade-long effort to connect this regional trail corridor through densely-populated Factoria. The improvements are expected to greatly enhance safety for people on the trail, and will also create more vehicle capacity on the highway exit ramp, helping drivers avoid long backups onto I-405.
Construction on the next section of the Mountains to Sound Greenway Trail in Bellevue, between 132nd Avenue Southeast and 142nd Place Southeast, has already started. Design and construction funding for the trail segment from 142nd Place Southeast to Lakemont Boulevard — and into Issaquah — is not yet available.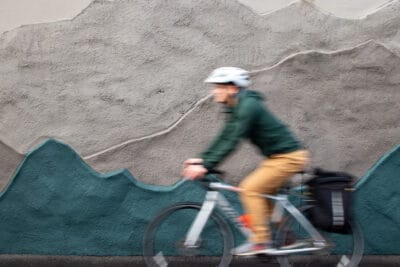 An Important Piece Within A Larger Vision for a Connected Trail Network
The Mountains to Sound Greenway Trail represents a key east-west connection in our world-class regional trail system, with a future vision for non-motorized trail connections between the Puget Sound urban areas and across the Cascades into Central Washington. There are also future plans to use ramps to connect the Mountains to Sound Greenway Trail to the Eastrail, a key north-south corridor that is currently under construction and will eventually provide 42 continuous miles of trails from Renton all the way north to Snohomish County.
"Comfortable, safe connections are essential so that people who walk, ride a bike, or roll can reach their destinations or another form of transportation," said Secretary of Transportation Roger Millar. "Projects like this help fill the gaps in our state's active transportation network and increase the effectiveness, safety, and efficiency of our multimodal transportation system for everyone."
A Project Many Years in the Making
The vision of a trail through Eastgate began as Bellevue residents and planners worked to envision a transit-oriented, walkable neighborhood in a location originally designed for automobiles. The Greenway Trust secured an original National Scenic Byways grant in 2011, with additional funds from the city of Bellevue, Puget Sound Regional Council, and construction funds from the Washington State Legislature. The Washington State Department of Transportation was another important partner that helped to make this project possible by working to place parts of the trail corridor within the interstate right-of-way, eliminating the need to work alongside crowded city roads. 
"Design and construction of the first phase of the trail has been both challenging and rewarding," said Chris Masek, transportation engineer and project manager for the Mountains to Sound Greenway Trail in Bellevue. "We are thankful to everyone for their patience during construction, and we are excited to open this new section of trail to the community."
How to Experience the New Trail Segment
Getting out on the trail is definitely an experience worth putting on your Greenway bucket list. You can start in a few different locations, depending how long of an outing you're looking for. From Seattle to the new segment in Bellevue is approximately nine miles. You may hear the trail referred to as the I-90 Trail in some places, and that's because it follows the freeway with a dedicated lane along the floating bridge, offering beautiful views out over the water and mountains in the distance on a clear day. The new segment in Bellevue will take you above Factoria Boulevard, through a tiled tunnel, and alongside a painted mural, which makes a great spot to snap a photo before heading back to your starting point. Tag us in your photos on social media and use #GetOutAndGreenway and #BikeBellevue! 
Parking for the Greenway / I-90 Trail can be found in Seattle at the trailhead on 12th Avenue S. In Mercer Island, park at either of the two public parks on the lid located off W. Mercer Way or SE 22nd Street. In Bellevue, parking is available at Enatai Beach Park on the waterfront at SE Lake Road.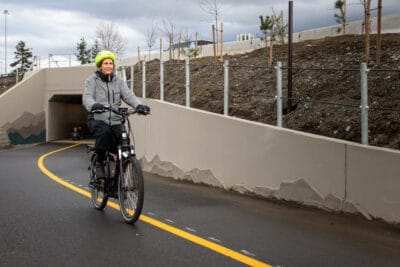 Stay Connected!
As with any large project such as this, it takes a lot of dedicated time, advocacy, and funds to make it a reality — but we believe it's worth it to have a strong connected trail system offering recreation and transportation opportunities for our residents and visitors. Additional transportation funding will be needed to complete the Mountains to Sound Greenway Trail in the coming years. If you'd like to stay in the know about this and other projects, please sign up for our email newsletter.