First wildlife bridge coming soon to Snoqualmie Pass
Moving through the Cascade Mountains is about to get a lot easier for both wildlife and motorists, thanks to work on I-90 east of Snoqualmie Pass. The I-90 Snoqualmie Pass East project is a 15-mile safety improvement project that stretches from Hyak to Easton, in the middle of the Mountains to Sound Greenway. This project creates a safer, more efficient six-lane highway to facilitate the movement of people, fish, and wildlife by adding capacity, stabilizing rock slopes, and improving bridges and culverts. The project will also pilot one of the very first wildlife bridges in the Greenway.
Snoqualmie Pass has a tricky geography to successfully combine a major interstate route with wildlife migration routes in its tight valley corridor. Snoqualmie Pass' forested slopes are a rich habitat for many iconic Pacific Northwest wildlife, including elk, cougars, and coyotes. These animals frequently cross I-90 traveling to new feeding and breeding grounds. Until now their only option was to cross four lanes of fast moving interstate traffic—a safety issue both for the wildlife and the motorists. The I-90 Snoqualmie Pass East project is a smart way to tackle this challenge, separating these two transit corridors by building wildlife crossings across the interstate, including both under crossings and bridges.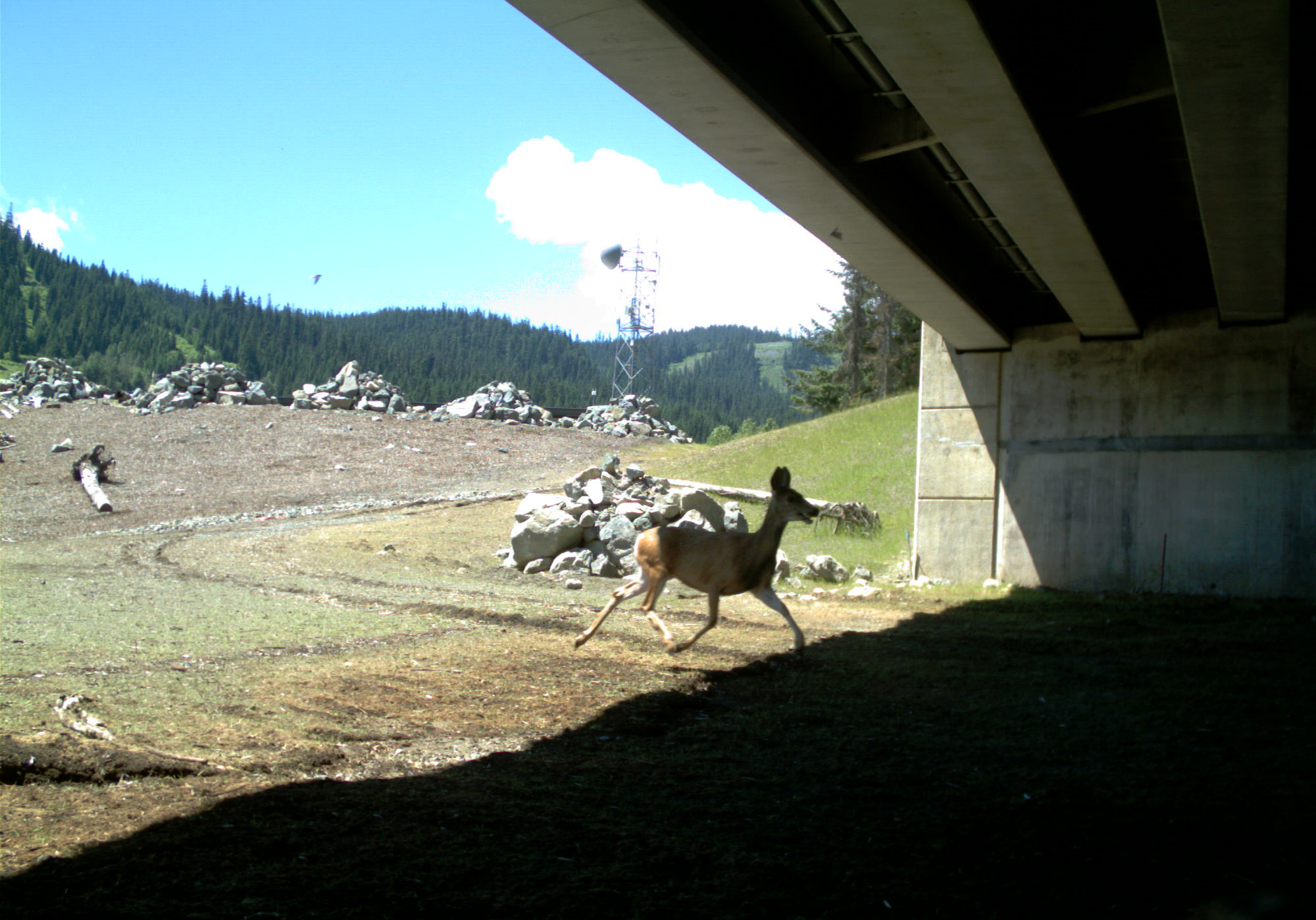 In 2005, the Legislature approved $551 million for the Washington State Department of Transportation to improve the first five miles of the 15-mile corridor to make improvements from Hyak to Keechelus Dam, known as Phase 1. In 2013, WSDOT finished the first three miles of Phase 1, including several wildlife under crossings, and opened new lanes to motorists. Wildlife were also captured by cameras captured using the new under crossings at Gold Creek and Rocky Run. The remaining two miles of Phase 1 is scheduled to be complete in 2018.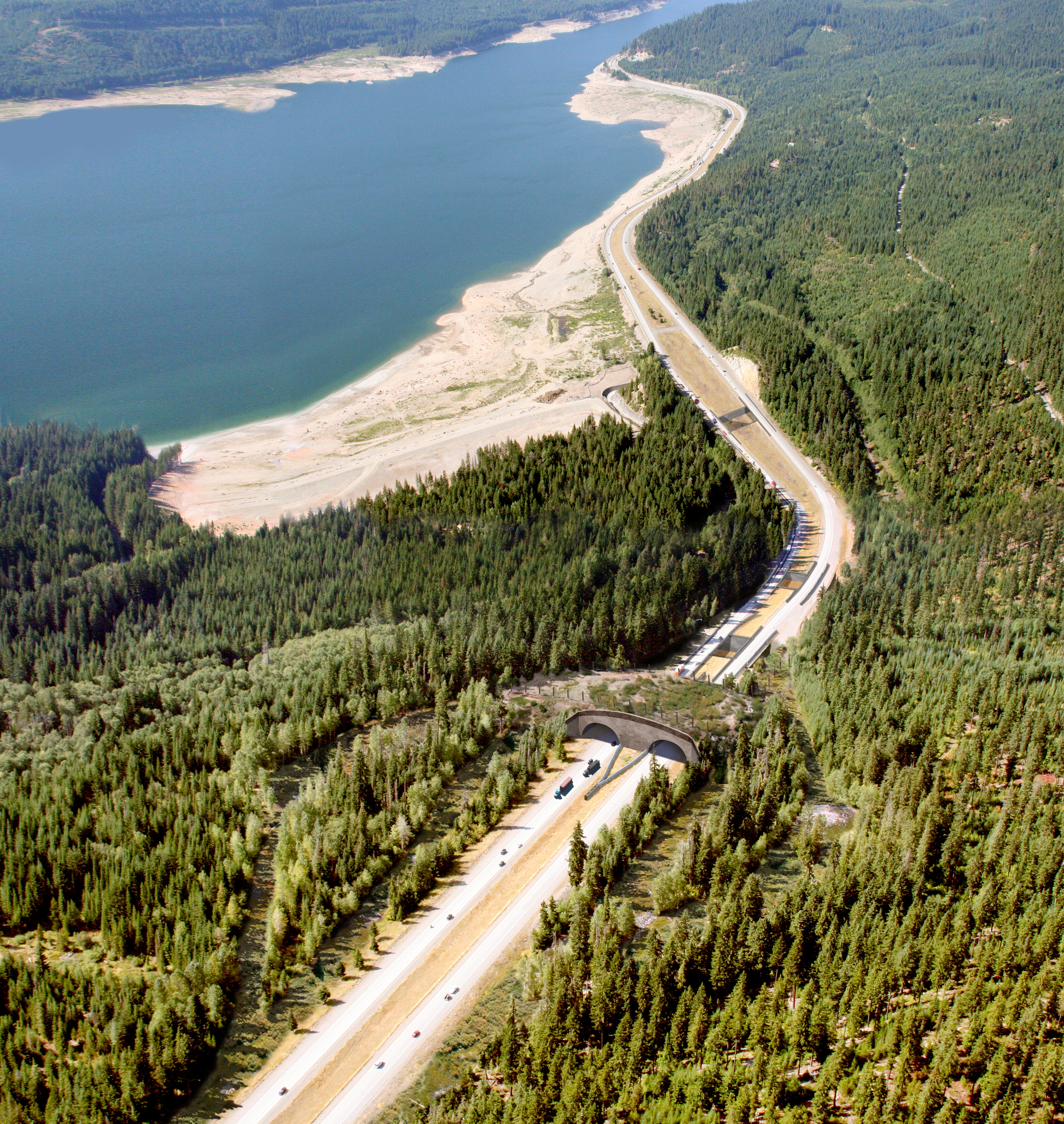 This summer marks a major milestone for the I-90 project, as construction starts on the next two miles of the 15-mile corridor from Keechelus Dam to Stampede Pass, known as Phase 2A. Due to project savings from Phase 1, WSDOT will continue widening I-90 from four to six lanes and build the first wildlife bridge over I-90 located at milepost 62. The bridge will be covered with native vegetation, to reduce exposure to predators for the animals that cross it. Funding to complete the remaining eight miles of the I-90 Snoqualmie Pass East project is included in current versions of Senate Transportation bills.
Get Involved
To celebrate this major achievement and to elicit public awareness and support, WSDOT and the I-90 Wildlife Bridges Coalition will launch a social media art contest for youth entitled Bridging Futures:  #iHearti90Wildlife. We are asking young artists to help illustrate the faces of wildlife waiting to cross the new structure. Awards will be given in several categories, including best group collection, best mammal or bird, best amphibian, reptile, or mollusk, most creative entry, and people's choice. Prizes include GoPro HEROs, customized #iHearti90Wildlife T-shirts, and REI gift cards. The contest runs March 25 through May 11 with winners announced in late May.
To learn more about the contest watch a short-video explaining the details and visit the Bridging Futures Webpage.
As summer approaches in the Cascades, we look forward to celebrating with partners at the groundbreaking in June for the second phase of the I-90 project. Stay tuned for updates at www.facebook.com/mtsgreenway. Until then, spread the word to all young artists that you know to help us build momentum for this project and the importance of connecting wildlife.
Photo credit: WSDOT