Falling in Love in the Greenway
There are 1.5 million acres in the Mountains to Sound Greenway National Heritage Area, which leaves a lot of room for falling in love — both with someone else and this amazing landscape we get to live, work, and play in. This Valentine's Day, we put a call out on our social media channels for people to share their stories with us. Below are five couples that found love somewhere in the Greenway.
Kim + Dan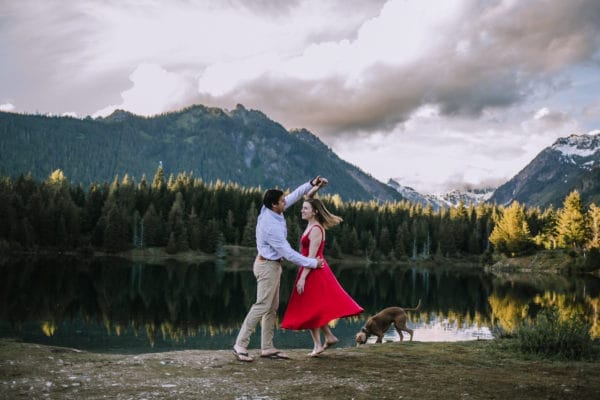 When one of my best friends from Pittsburgh told me that her wedding photographer would be traveling to Seattle for a conference and was looking for an outdoorsy couple to photograph to add to her portfolio, I jumped at the opportunity. Dan and I had never had professional photos taken before, and we are usually in hiking clothes or dirty clothes working on our house, so I thought it would be fun to dress up and get some nice pictures in this beautiful PNW area that we call home.
I picked outfits for us, and together with the photographer and our dog, George, we headed to Gold Creek Pond for a sunset session. The photographer started out by having us do simple poses — smile, hug, kiss, etc. Then she said, "OK, I want the two of you to put your backs together, take a big step apart, and look up at the sky." I heard the camera shutter going off and thought it was a strange pose, but went with it. Then she said, "turn around!" When I did, I saw Dan down on one knee, and I couldn't believe he was proposing! Little did I know that whilst I thought I was the mastermind behind planning our shoot, Dan was having a plan all his own that the photographer was in on too.
Lillian + Martin
My husband and I are an outdoorsy couple by nature. We got engaged during a snowshoeing trek at Heli's Pond in Snoqualmie Pass with our dogs. When it came time to plan our wedding, we knew that we wanted it to reflect our love of the outdoors; something simple, dog friendly, and very PNW. We just needed to decide if we wanted a mountain view or woods.
We are both native Houstonians and needed somewhere that would be easily accessible for our senior parents from Texas, but that would still have that PNW vibe. We knew a hike was out of the question, but a park surrounded by trees, like Lincoln Park, was the perfect choice. It was dog friendly, affordable, and oddly enough, it was fairly intimate. Our out-of-town guests were able to head down to the beach after the ceremony, and we had reserved the pavilion for a small reception. We had our wooded, fairy-tale wedding surrounded by friends and family from here and Texas under a canopy of trees decorated with string lights. It was a simple, outdoorsy "Wedding in the Woods," which was exactly what we wanted. Our journey to wedded bliss started in the Mountains to Sound Greenway and became official there as well.
David + Shawna
Shawna and I grew up in Issaquah and now live in Preston. Our home and life is shaped by the natural landscapes that surround us in the Mountains to Sound Greenway, and we can't imagine living anywhere else.
Our adventures in this landscape have helped us build deep roots together. Shared experiences such as hikes, climbing trips, and service projects helped us grow a community of friends, family, and colleagues that engulf us like the evergreen forest; and their love and support has helped us grow our relationship. So in October 2019 on a crisp fall day climbing in North Bend, through a trail built by volunteers, on public land that was brought back from its logging scars, and on a rock outcropping that had stood the test of the last glacier retreat — we decided to get married.
Robert + Catherine
I first met Catherine at a wine night get together in the winter of 2017. She had come straight from an afternoon of skiing and was still in her ski pants and jacket when she arrived at the party. She had a joyous energy about her and a 1,000-watt smile that drew me in. The rest, as they say, is history. We started spending every waking moment with each other and ventured off to do several hikes including Barclays Lake, Rattlesnake Ledge Trail, and Mailbox Peak. We took our first couples photo atop Rattlesnake Ledge, somehow finding a clear photo op amongst a sea of people snapping pics of the amazing views.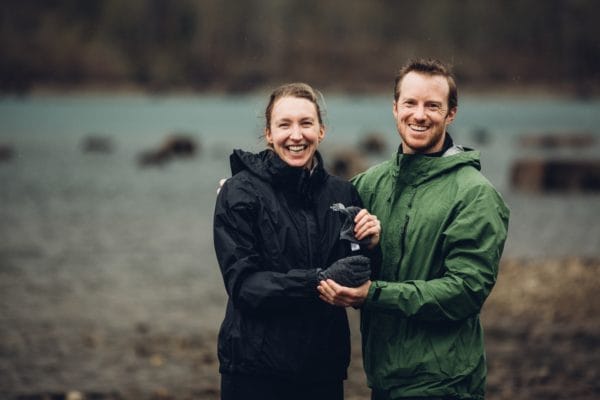 When I started thinking about engagement rings and proposals two years after dating, I thought of our first hike together to Rattlesnake Ledge and decided that's where I would propose. We had great memories there, it was in close proximity to Seattle, and a photographer could hide well in the trees if I proposed along the lake. Being close to Seattle was perhaps the most important part because I was a nervous wreck in the days leading up to the proposal. The last thing I wanted to do was spend two hours in the car driving to a trailhead to propose … I'm not sure I would have made it!
The morning of the proposal, rain poured down as we arrived at the parking lot. Walking towards the trailhead with the lake in the background and rain dripping from my jacket's hood, I dropped to one knee and asked Catherine to marry me. She was too busy looking at the ring to give me a yes, but the follow-up hug and kiss provided the answer I was hoping for! Also, as I predicted would happen, we didn't go on the hike instead opting for calls to family and a celebratory lunch.
Looking back on that day, the photos captured by photographer Mike Fiechtner provide the perfect representation of the Pacific Northwest – lush green trees, rain, and gorgeous mountains for miles. It seems crazy to say, but even with rain pouring down on us that morning, we wouldn't have had it any other way!
Doug + Kristi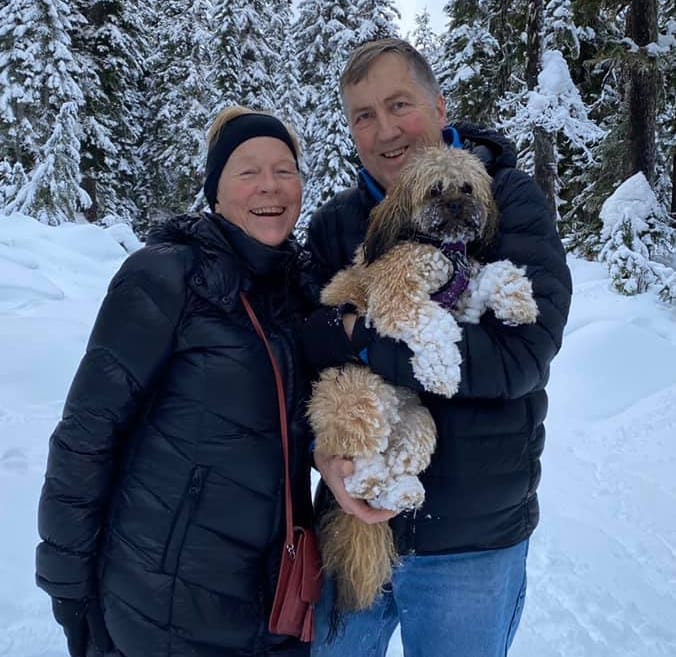 Kristi and I met in the forest directly behind our house where we live today on Tiger Mountain in Preston. We first met in 1980, when we were both working for the Department of Natural Resources. I met Kristi during my first day on the job in North Bend, when she taught me how to supervise tree planting contracts.
We later built a log home right below the forest where we first met. We still live there today with Ned the Conservation Dog. The trees are so much bigger now, but I guess we are almost 40 years older than that day in the Greenway in 1980.