Explore the Greenway: Upper Yakima Float Trip
At the Mountains to Sound Greenway Trust, we appreciate a good river. We travel trails alongside them, rebuild bridges across them, and plant thousands of trees along their banks to shade and cool their waters. Recently, a group of Greenway Explorers had a chance to get out and float on one.
On June 15th more than 70 floaters gathered beneath the Highway 10 bridge near Cle Elum. Strapped into life jackets and holding paddles, they loaded into rafts for the Greenway's first ever float trip!
This trip was an intermediate float down the Upper Yakima River canyon led by The Yakima is wide and flat, but deceptively fast and dotted with basalt boulders that churn up patches of rapids. During the summer months, the river is fed by three deep reservoirs high in the Cascades, cooling the water to temperatures that shocked floaters who jumped off the rafts or took a splash from the rapids.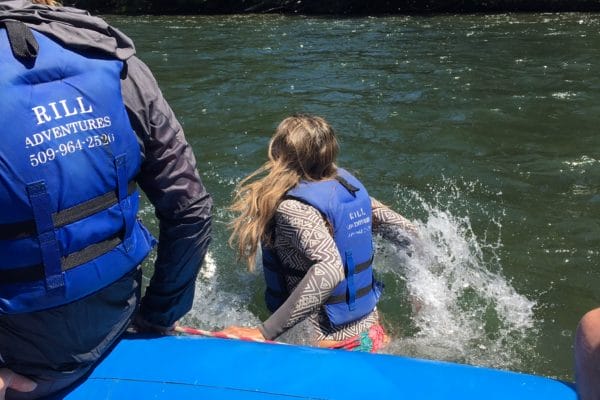 Explorers were surprised to learn that the high, fast, cold flows were not natural for the Yakima; early white settlers built the reservoirs to store irrigation water, and used the Yakima as a channel to deliver that water to farms and communities in the Kittitas and Yakima valleys. The irrigation system turned the region into an agricultural powerhouse – the Yakima River basin produces $4.5 billion in agricultural products every year, and grows 70% of the nation's hop supply – but altered the river in ways that nearly drove salmon to extinction. The reservoirs were constructed without fish passage facilities, and the fast summer flows stripped salmon redds and spawning gravels out of the riverbed. Between 1900 and 1990, the number of salmon returning to spawn every year dropped from more than one million to less than 10,000.
Yet, agriculture and fisheries don't need to be at odds. During our lunch break we heard from Connor Parrish, project manager with Mid Columbia Fisheries Enhancement Group. He filled us in on partnerships with the Yakama Nation, local irrigation districts, county government, the Departments of Ecology, Fish and Wildlife, Natural Resources, and others, all working together to make more efficient use of water supply. Thanks to a comprehensive package of irrigation system improvements, salmon reintroduction, floodplain reconnection, habitat restoration, and timing reservoir releases, the salmon have steadily climbed back towards 100,000 annual returns. These groups also coordinate with outfitters like Rill Adventures to do in-steam restoration work that still allows for people to play in and on the water. The Yakima still has a long way to go, but it's proof that we can manage a river for fish, farms, and recreation.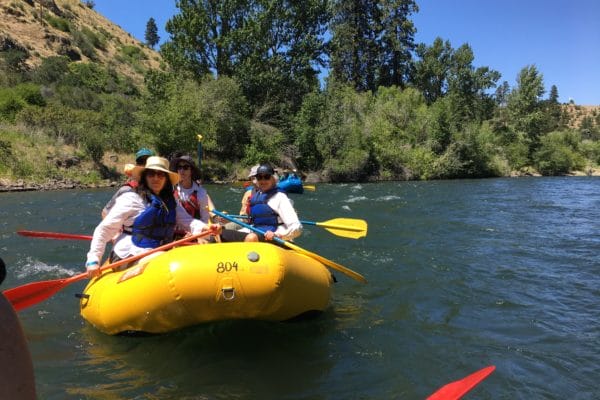 Four hours after putting in at Highway 10, all 70 explorers splashed out of the river at Thorp, sunburned and successful! We'd floated under basalt cliffs, spotted bald eagles, and dipped ourselves in Cascade snowmelt. Best of all, we had a better appreciation for the challenges facing the eastern half of the Greenway, and affirmed our interest in spending more time with the river. We plan to bring more groups back to the Yakima soon, and hope to see you there!