Building the Salmon la Sac Kiosk: Phase 2
In September of 2020, the Mountains to Sound Greenway Trust partnered with the Cle Elum Ranger District and the Cascadian Log School to save a historic picnic shelter at Salmon la Sac campground from demolition. Built by the Civilian Conservation Corps (CCC) in 1936, the picnic shelter was dangerously worn down by 84 years of rain, snow, and insect activity. You can read more about the structure's history, and how we found the resources and craftspeople to restore it, here! Go ahead, we'll wait. (Seriously, the context is important!)
Fall of 2020 was a strange time for restoration projects; the COVID vaccine wasn't on the scene yet, our federal and local partners all had different safety guidelines, and most volunteer programs were still officially closed. To complicate matters further, intense wildfires in California and the Pacific Northwest created serious air quality issues all summer long. These factors combined to slow the Salmon la Sac project, as everyone maintained social distance, performed daily health checks, and fit the work in on breathable air days. By the end of our five-day workshop, the kiosk was only 2/3 complete.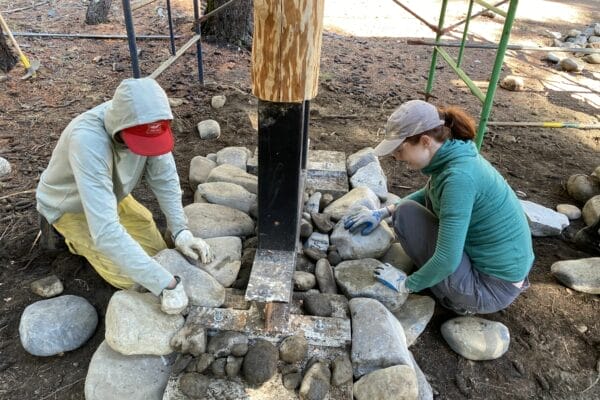 We were out of time, but not out of options. Our amazing volunteers unanimously agreed to return in 2021 to complete the kiosk project. All we needed to do was figure out how to hire David Rogers back on to see the build through. Enter Puget Sound Energy's Powerful Partnerships grant, a program that strengthens ties between groups working toward a more sustainable future. Sustainability isn't just about renewable energy or reducing the waste we generate in our daily lives: it's also about preserving historic knowledge and techniques, and increasing communities' problem solving capacity. PSE agreed that teaching volunteers how to salvage and restore century-old structures fit that bill and provided us with a grant to conduct Phase II. Knowing we'd have David back, we partnered up with USFS and the Salmon la Sac site concessionaire to raise additional money to replace the final (less-dilapidated) sill-logs on the picnic structure itself.
Despite the rapidly changing nature of our lives during this pandemic, all but one volunteer was able to gather at Salmon la Sac during the final week of September 2021. The logs, rafters, and purlons we had so carefully measured and shaped in 2020 came out of storage and were reassembled on-site. We relearned the finicky art of scribing notches and picked up new skills like selecting and assembling cedar shakes for the structure's roof. The Greenway Trust Trail Crew joined us for several days to support David in stripping sill-logs, and hand-built the stonework footing supporting the kiosk! By the end of the week, the kiosk stood tall and proud, roofed and mortared, waiting for an ADA-accessible paved approach and interpretive panels.
Some pandemic challenges remained: we still operated by COVID safety protocols, and the Schneider Springs fire in Yakima County pumped smoke into the air. But some things made it all more bearable: cold rain washed the smoke from the air; friendships from the first workshop picked right back up where they left off; the re-opened picnic shelter, with its freshly repaired fireplace and chimney flashing, kept us warm and dry. The Trail Crew took the opportunity to explore the eastern half of the Greenway, and our Greenway Trust rec staff were able to put our heads together with David once again, plotting ways to bring this restoration program to other historically and culturally significant structures across the Greenway National Heritage Area.
We want to extend our deepest thanks to PSE for funding Phase II, to David Rogers at the Cascadian Log School for his patience and commitment to the project, and to our partners at the USFS Cle Elum Ranger District for their assistance with permitting, archaeological oversight, and worksite safety.