5 Essential Traits Trail Crew Members Need To Thrive in the Backcountry
Imagine spending your days in the great outdoors, surrounded by stunning natural scenery and working hard to maintain and improve the very trails that allow you to explore and appreciate it all. That's the life of a trail crew member, and it's no easy job. But for those who thrive on adventure and relish a good challenge, it can be an incredibly rewarding experience. In this article, we'll take a glimpse into the world of trail crews and share five key tips for success on the trail. So grab your boots, your sense of humor, and let's hit the trail!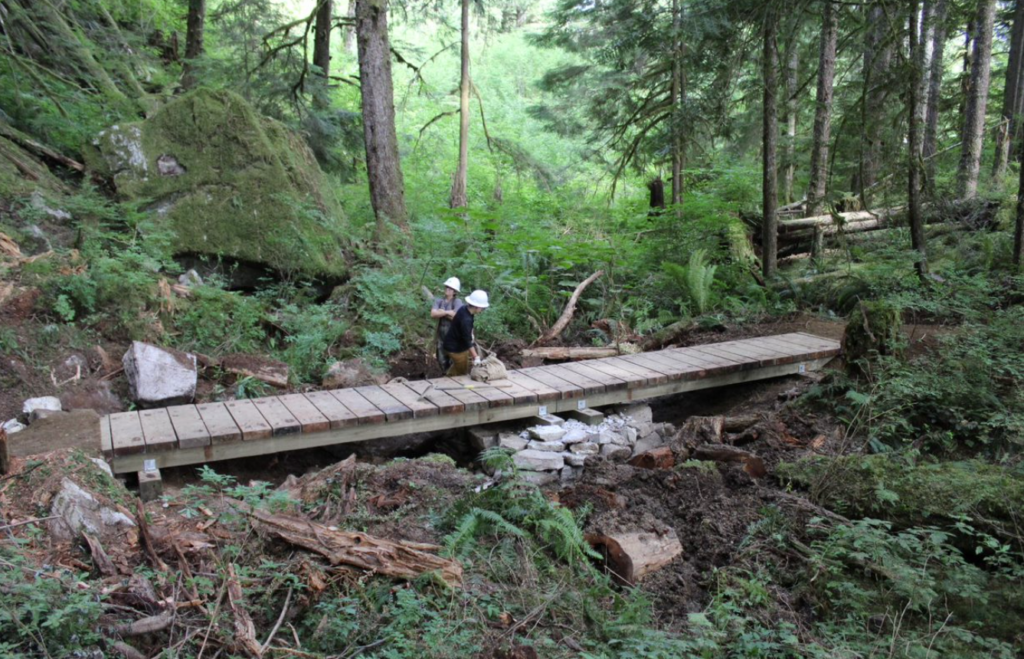 Comfort with Discomfort
One of our last projects of 2022 was repairing a bridge on the Granite Connector Trail. A tree had fallen on the end of it, breaking a few of the rail boards and the end post. An easy enough fix—the bridge decking was undamaged, so we had to replace the rail boards. However, the bridge was nearly two miles from the closest trailhead, and there were only three of us to carry in six 12-foot-long boards, a five-foot-long treated post, and all of the tools we would need (including several drills, socket wrenches, a sledgehammer, and pry bars).
On the first day, we arrived after a two-hour slog to find snow on the bridge, only to realize we did not have all the tools. So, back to the truck we hiked. The next day we returned (once again carrying boards on our shoulders) and completed the repair with creative problem-solving. The project was full of discomfort: the weight of the boards dug into my shoulders, and no matter how often I shifted them around, I got hot and sweaty on the hike in, (despite my best efforts to shed layers as soon as possible) and then immediately got very cold at the bridge (despite donning an excessive number of layers). I love this job, but there is rarely anything comfortable about carrying tools for miles into the backcountry, sleeping on the ground after a 10-hour work day, and working through summer heat and fall chill. This job is not comfortable, and that's part of what makes it so rewarding. Success is so much sweeter after so much struggle.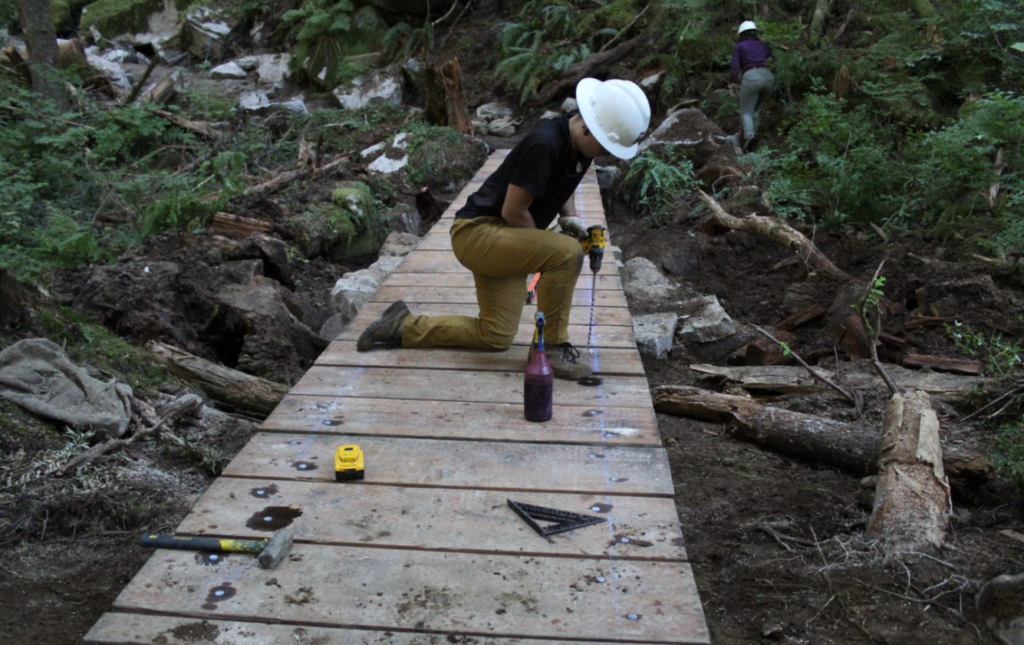 Embracing the Dirt
Not much to say about this one. We spent 47 nights camping this season and the rains didn't suppress the pervasive trail dust until late October. Needless to say, we were constantly covered in dirt and there was no point in trying to avoid it.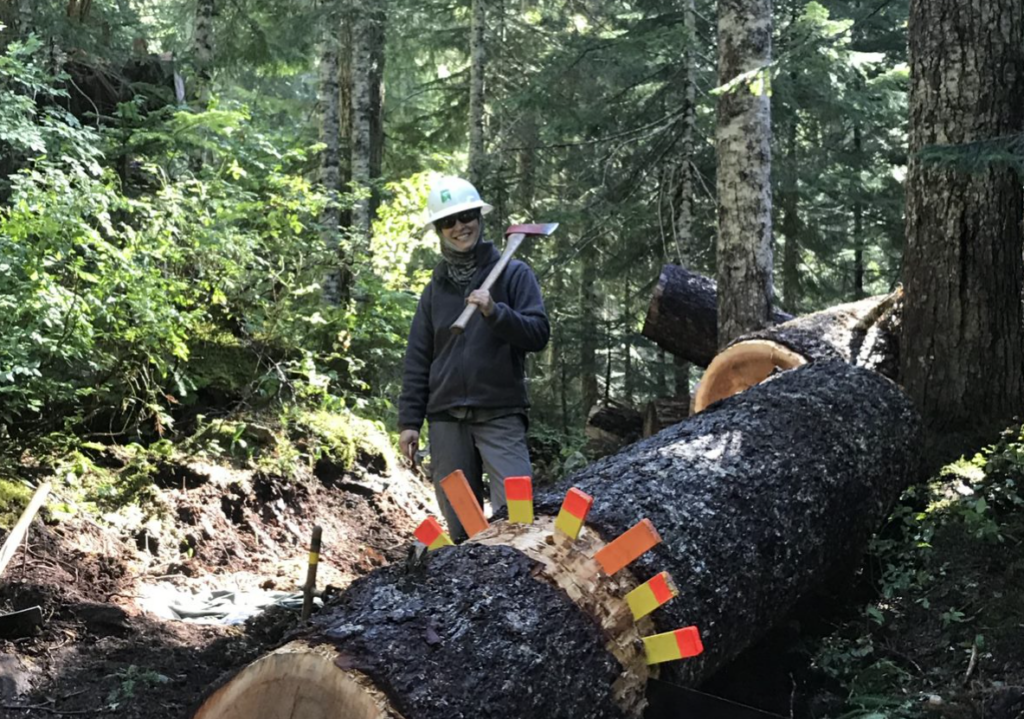 Knowing When To Use a Rock Bar
A rock bar is a long piece of metal that is designed to be as heavy as possible. Depending on the circumstances, it may be worth its weight when moving large rocks. On the other hand, our bodies can also move rocks around, so I found myself calculating whether it would be physically and psychologically more challenging to carry a rock bar on my shoulders for miles or to move boulders with my hands. It's an exercise in short-term vs. long-term gain, balancing the long-term well-being of my body with the short-term pain of carrying a rock bar.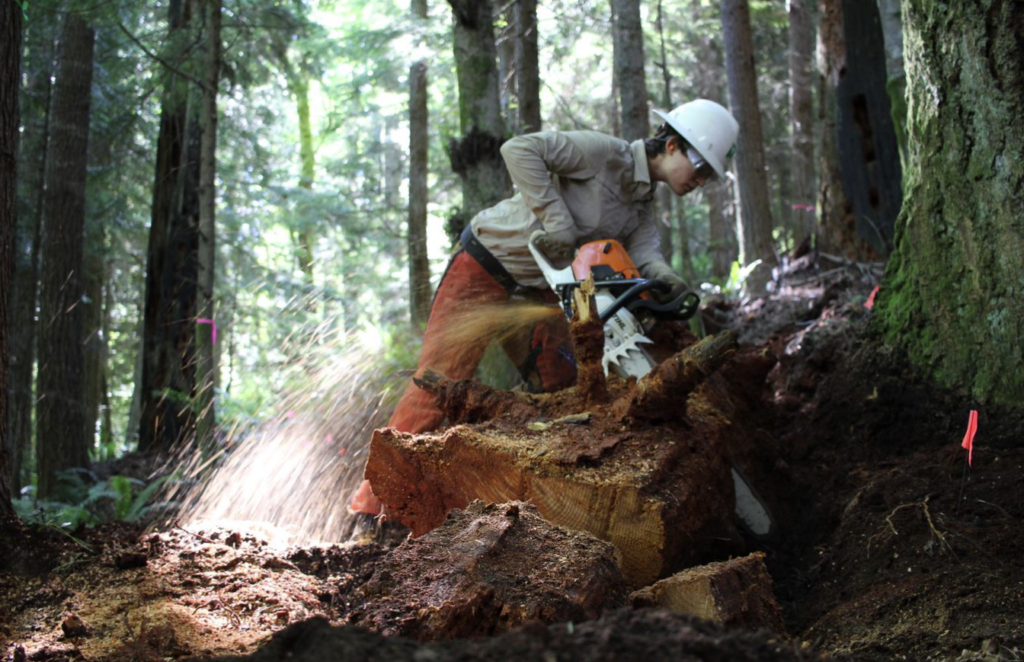 Good Communication
Trail work can be very dynamic—logs can respond in unexpected ways when we cut them with saws, rocks can slip out of our control and slide down onto the trail below us, branches can fall with no warning, and hikers can walk through our work zone at any time. As such, trail crew members must be in communication with each other at all times. With crosscut sawing, this is especially evident. When removing a log with a chainsaw, the sawyer can stand on the safe side of the log but with crosscut sawing, there is a person on each side of the log. In that situation, it's crucial for each sawyer to constantly be checking in with the other about what they're seeing and feeling in the log. And when they decide that one side is becoming unsafe, that sawyer removes the handle from their end of the crosscut saw, moves to a safe location, and lets the second person finish the cut themselves.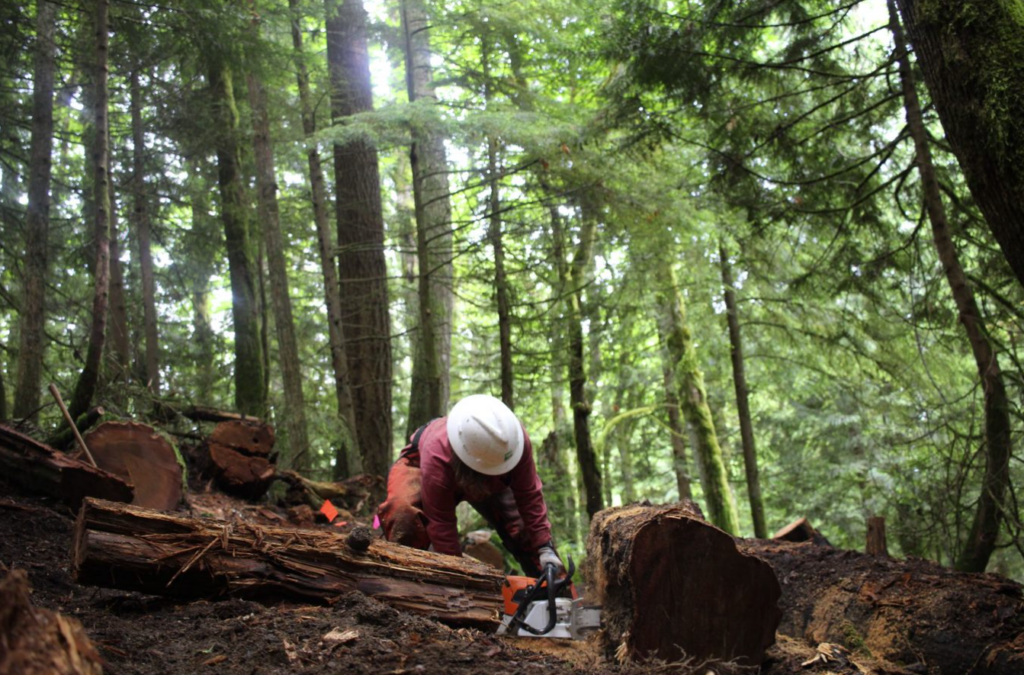 A Sense of Humor
Days on the trail can be long and exhausting and, especially during spike season, the crew spends most of their time together. It's an intense work environment, which means it's important to have a good sense of humor and find things to laugh at amidst the struggle. Our crew had so many fun conversations out on the trail this year, joking with each other, losing ourselves in our imaginations and wonderings, and keeping track of the most unexpected questions hikers asked.
Want to stay in the loop about everything happening across the Greenway NHA? Make sure you're on our e-newsletter list!