The Mountains to Sound Greenway National Heritage Area represents a national conservation success story. Motivated by local residents who staged the Mountains to Sound March from Snoqualmie Pass to Seattle in 1990, Greenway partners have worked together for decades to achieve a vision of protected parks and forests, accessible natural areas, productive working forests and farms, and incomparable scenic beauty.
Conserving and connecting the natural landscape of the Greenway NHA takes extraordinary leadership from federal, state, and local elected officials and land management agencies. And it comes together piece by piece. Since 1990, nearly $500 million has been invested in more than 250 transactions to purchase or exchange 230,000 acres of natural lands into public ownership, and an additional 100,000 acres have been preserved by conservation easement.  
This work is not finished. Greenway partners must continue to look for opportunities to locate new trailheads, protect critical wildlife corridors, conserve forest inholdings, and allow access to nature in communities where people live and work. And we must do this all while balancing the needs of economic growth and development.
To learn more about supporting this work, visit the Jim Ellis Fund for Land Conservation.
Building the Mountains to Sound Greenway
Maps and documentation in the Building the Mountains to Sound Greenway publication show principal lands acquired in the creation and preservation of the Greenway NHA, the 1.5 million acre landscape of forested natural lands and thriving communities surrounding Interstate 90 from Seattle to Ellensburg.
Pictured left: Bergsma acquisition celebration
While it took hundreds of transactions to connect public lands, wildlife habitat, and recreation areas across the Greenway NHA, these are a few of the major transactions that conserved iconic places: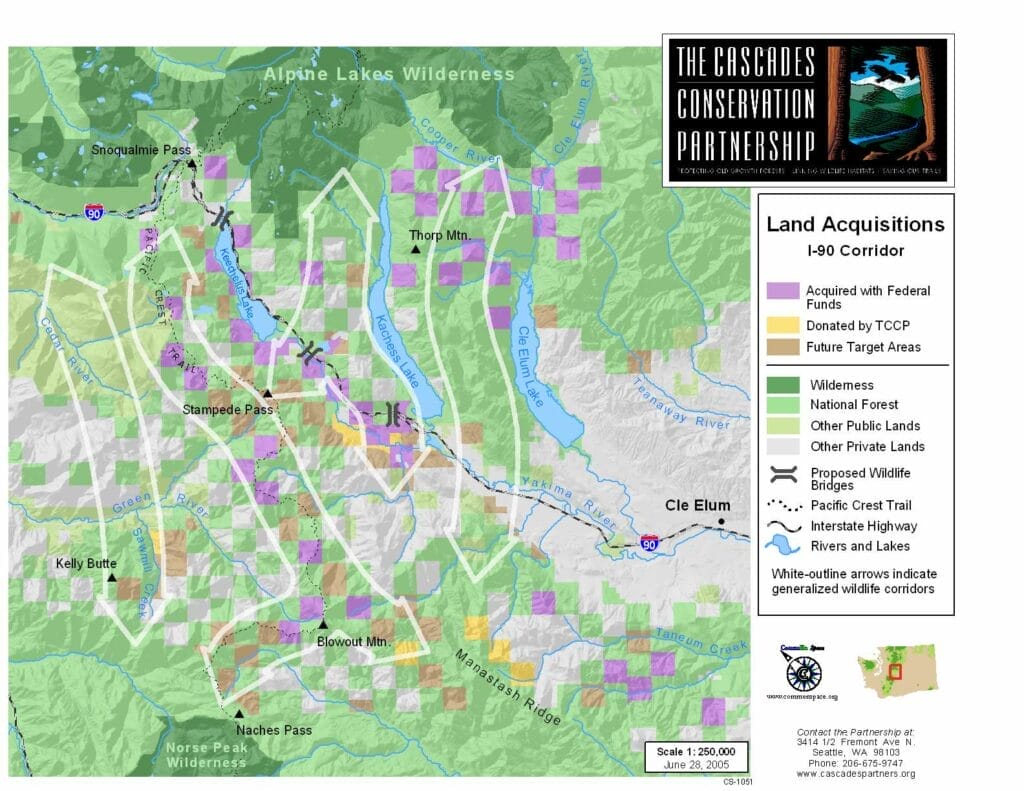 1993 Rattlesnake Mountain Scenic Area, 1800 acres; 1997 Rattlesnake Mountain Acquisition, 1100 acres; 2000 Snoqualmie Point, 130 acres
1993 Squak Mountain expansion, 990 acres
1994 Meadowbrook Farm, 460 acres; 2001 Tollgate Farm, 380 acres
1997 Champion Exchange, 6720 acres
1999 I-90 Land Exchange, 31,900 acres
2001 Huckleberry Land Exchange, 15,547 acres within the Greenway
2001 Snoqualmie Preservation Initiative, 3450 acres
2004 Snoqualmie Forest, 90,000 acres conservation easement
1999-2009 The Cascades Conservation Partnership
2009 Raging River State Forest, 7000 acres
2013 Teanaway Community Forest, 50,272 acres
2014 The Nature Conservancy Forests for our Future, 41,507 acres
2019 Bergsma property, Issaquah
To see the details of conservation transactions, take a look at this publication: Building the Mountains to Sound Greenway.