Turn your trail time into advocacy for this special landscape!
Time spent on trails is hugely beneficial for our mental and physical well-being. But did you know that trails can also play a role in protecting the environment? Whether you're strolling along an interpretive boardwalk through an urban marshland, or hiking 20 miles deep into the back country, a sustainably designed trail maximizes your safety, comfort, and connection to nature while protecting the sensitive ecosystems around you. This is one of the major tools the Greenway Trust uses to promote a long-term balance between our region's growing population and incredible natural spaces – building and maintaining recreational trails that help people confidently explore the wild beauty of the Mountains to Sound Greenway National Heritage Area.
---
If your employer uses the Benevity platform to match volunteer hours with company gifts, then this opportunity is for you!
---
You can help raise awareness and investment for these critical public resources using one of the most powerful tools you have – your own personal stories of exploring the Greenway! This is the focus of our "Hike for the Greenway" volunteer campaign, which turns your trail time into volunteer advocacy to care for local public lands and support the Greenway Trust's work to make them accessible for all. It's also designed specifically for people whose employers match volunteer hours with company donations, amplifying your impact by raising funds that will ultimately help us build and maintain sustainable trail infrastructure, sponsor students in the Greenway Education Program, and restore natural habitat for endangered salmon and other wildlife.
How

t

o Participate
You can volunteer your time in three easy steps:
1. Go for a walk or hike on a trail located in the Mountains to Sound Greenway National Heritage Area.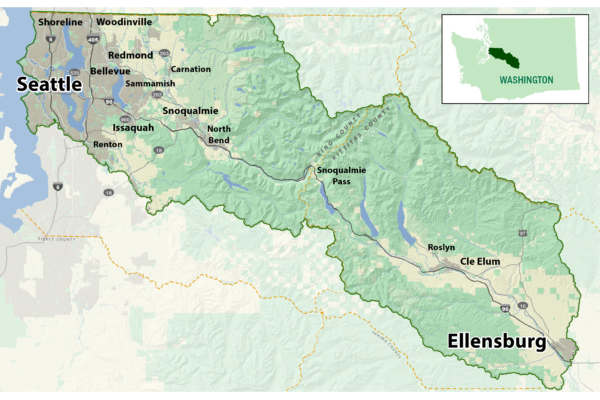 2. Tell your friends, family, and colleagues about your adventure. Use #getoutandgreenway or tag us on Facebook or Instagram to amplify your advocacy. Share how the trail, trailhead, or interpretive signage made it possible for you to confidently explore the beauty of the Mountains to Sound Greenway and connect with the natural world around you. Most importantly, talk about what's meaningful to you! This could be learning about local wildlife and ecosystems, the boost to your mental and physical wellbeing, or making a discovery in your own neighborhood.
3. Submit your hiking hours as volunteer time in your company's Benevity cause portal using the activity name "Hike for the Mountains to Sound Greenway." (Please note: your employer may first need to approve the opportunity, for you to successfully submit volunteer hours for matching donations. We recommend contacting your internal philanthropy or cause support team to confirm this.)
Resources to Inspire Your Planning!
Our

Greenway Impact Tour

,

which

highlights 7 sites across the landscape and tells the story of the Greenway Trust's

conservation

accomplishments

at each location

Washington Trails Association

's

Hike Finder Map

, for even more ideas and helpful trip reports
There are ultimately hundreds of options for every ability and interest level, including an ADA-accessible walking trail and day use area alongside a designated Wild and Scenic River.
From Our Blog:
Corporate Social Responsibility
If you're a company interested in being a champion for nature in your community, while providing an outlet for your employees to do good, then this volunteer activity is an excellent opportunity to accomplish both! The impacts range wide, too – heightened appreciation and care for public lands, employees enjoying the mental and physical benefits of outdoor recreation, and a demonstration of your company's commitment to healthy local ecosystems and a thriving natural world.
---
Thank you for using your time and hiking experiences to advocate for public lands in the Greenway!
---
Questions about this opportunity?
Contact:
Robyn Hall
(206) 503-0498
robyn.hall@mtsgreenway.org