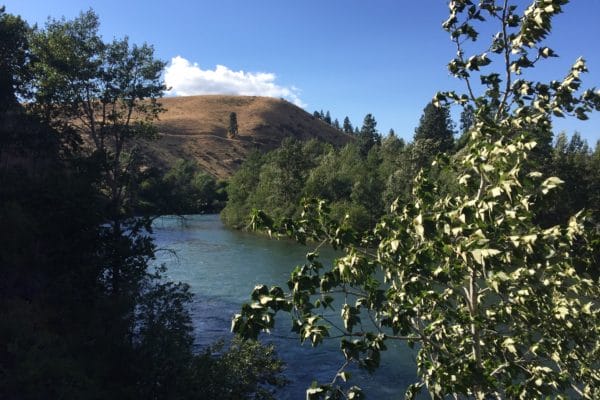 Explore the eastern part of the Greenway—from the river! Join us for a special float trip along the Yakima River, floating the Upper Canyon between Cle Elum and Thorp. Raft past basalt canyons, rolling forests, and green farmlands of the Yakima Basin with expert guides, and learn about this basin's unique ecology and efforts to conserve it from special guest speakers during our locally sourced lunch. We will cover 15 river miles in 4 hours (plus lunch!), so be sure to bring your sunscreen!
Registration for this trip is now CLOSED.
If you're interested in joining a waitlist to fill any cancellations, please email stephanie.huck@mtsgreenway.org.
---
Cost: $70/person ($65 early bird price ended May 15th)
The registration fee helps cover cost of the rafts, guides, shuttles, safety gear, t-shirt, snacks, and lunch.
DETAILS
Saturday, June 15, 2019
10am – mid afternoon
Distance: 15 river miles
Difficulty: moderate – manageable by novices, but will require paddling!
Total Trip Size: 60-75 participants
We will meet near Cle Elum in the morning, and begin our raft journey down towards Thorp. Our lunch break will be spent at a scenic riverside campground just off the Palouse to Cascade State Park Trail, where we'll be joined by river restoration and fisheries experts who will share the unique story of the Yakima River. After we finish the float we'll provide a shuttle back to the cars in Cle Elum.
Age Restrictions: Must be at least 12 years old (see exemptions). All youth 16 or younger need to be accompanied by an adult.
TO PARTICIPATE, YOU WILL NEED:
Be able to swim. Personal Flotation Devices will be provided, but you are welcome to bring your own.
Once you are registered and paid, we will send you more detailed information about the trip, including a packing list. You can also check out our Frequently Asked Questions.