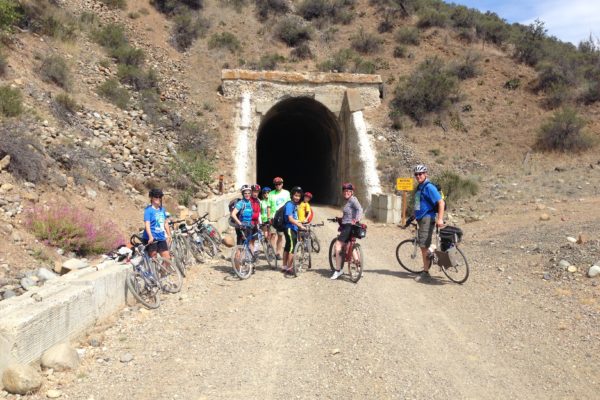 Explore the spectacular forests and canyons of central Washington while learning about recent conservation efforts. Start with a short hike in the Teanaway Community Forest to a unique geologic formation, explained by CWU Professor of Geology Nick Zentner. Then grab a local lunch and bike through scenic canyonlands along 20 miles of the Palouse to Cascades State Park Trail (formerly known as the John Wayne Pioneer Trail).
Registration is now closed.
If you would still like to join, please contact 'margaret.ullmanhess (at) mtsgreenway.org' to see if a spot has opened up.
$65/person
The registration fee helps cover cost of the shuttle, t-shirt, route map, snacks, and lunch.
DETAILS
Saturday, June 9, 2018
9am – late afternoon
Distance: 3-mile hike + 20-mile bike ride
Difficulty: moderately strenuous
Total Trip Size: 60-75 participants
We'll meet in Thorp in the morning and catch a shuttle to the Teanaway Community Forest for an educational hike up to "Cheese Rock" – a geologic feature with sweeping views across the forest – before enjoying a locally sourced lunch. Then we'll be shuttled down to Cle Elum where we'll pick up our bikes (transported for you from Thorp) and start our bike ride along the Palouse to Cascade State Park Trail, passing through several canyons and historic tunnels as the trail travels along the Yakima River back to Thorp.
Age Restrictions: 12 years old and up (see exemptions), if experienced with hiking/biking on these types of trails. All youth 16 or younger need to be accompanied by an adult.
TO PARTICIPATE, YOU WILL NEED:
Be able to hike at least 3 miles over varying terrain. The trail mostly follows a gently rising forest road for most of the way to Cheese Rock, but then there is a moderate-steep section near the end approaching the overlook that you will need to ascend and descend.
Be able to bike at least 20 miles on a gravel trail. While the grade is gentle (it's an old railroad line) it does have moderately strenuous level of difficulty because of the longer distance and several sections of loose gravel. Note: the gravel on this stretch can be more challenging than that found west of Snoqualmie Pass, on our Tunnel Bike Ride.
A mountain bike and helmet. Since the trail is packed gravel with several loose sections we recommend all riders use a mountain bike because of the wider tires and increased stability. Experienced riders who are comfortable biking in these conditions may use a hybrid bike, although the loose gravel could be problematic. Road bikes (with their thin tires) are not allowed for safety reasons–it's too easy to fall.
Bike light. The tunnels we go through are unlit.
Once you are registered and paid, we will send you more detailed information about the trip. You can also check out our Frequently Asked Questions.