Green Seattle Day 2017 at Discovery Park
Green Seattle Day 2017 at Discovery Park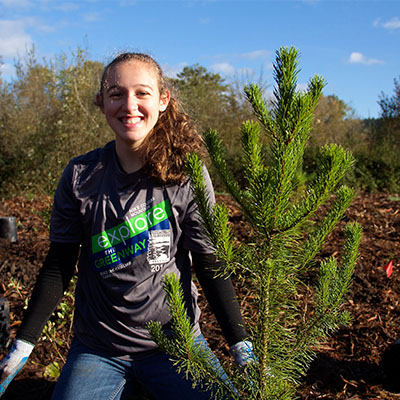 Register
Registration is closed for this event
Date & Time
Saturday, November 4, 2017 | 9am - 1pm
Priority Area:
Location
Discovery Park
Project Difficulty
Easy to Moderate
Age Restriction
Any participant under 13 years old must be accompanied by an adult.
What to Bring
For safety, volunteers are required to wear:
Long pants (we'll be working with tools, so no shorts!)
Sturdy, close-toed shoes (absolutely no sandals)
Gloves (bring your own if possible, we will provide a limited number)
In addition, we recommend that participants bring:
Warm layers, especially during the fall, winter, and spring
Rain gear
Big sack lunch
At least one full water bottle
Small daypack for lunch, extra layers, etc…
Where to Meet and Parking Information
We will meet in the Discovery Park South Parking Lot and ask that you park along Emerson St to keep the parking lot open for other users. We are expecting a large turnout so please consider carpooling or using transit. Google Map: https://goo.gl/OqdtgQ From I-5: - Take the exit for NE 45th ST. - From the exit ramp, head WEST and merge onto NE 45th ST. - Follow NE 45th ST west. It travels under US99 and then becomes 46th ST and then N MARKET ST as you near Ballard. - From MARKET ST, turn LEFT onto 15th AVE NW crossing over BALLARD BRIDGE. Just as you leave the bridge, turn right onto W EMERSON ST. - Follow W EMERSON ST to a 4-way intersection where you turn RIGHT onto GILMAN AVE W. Stay on GILMAN AVE W as it turns into W GOVERNMENT WAY. - Take a Left onto 34th Ave W at the 4-way stop. - Take a RIGHT onto W Emerson St. Follow W Emerson St until you see the Mountains to Sound Greenway Event sign at the entrance to the South Parking Lot. Park on S Emerson St.
Additional Information
As the City of Seattle's largest multi-use park at 534 acres, Discovery Park is a park of regional significance. It is a major draw for a wide demographic range of users as well as recreational opportunities. It is also one of the best places in Seattle for bird watching with over 230 species identified.
Many of the areas of the park have been degraded by invasive plant species and lack the diverse habitat needed to provide a balanced ecosystem. We will be continuing our restoration efforts by removing these invasive species and spreading mulch in preparation for planting native vegetation in the fall. The project will enhance the species diversity, forest structure and function of the area.